Below are the steps to Post a new job.
From the Dashboard use the 'Create New Vacancy' button located under quick links on the Dashboard
or select JOBS from the main top menu. From the JOBS section, go to the right side menu and select CREATE NEW VACANCY.
You can also click on "New Vacancy" button.
From the ADD JOB template, complete all required fields. If you fail to complete all mandatory fields you will not be able to submit. The system will alert you which fields require completion. Once all fields are completed select SAVE from the group of options.
A. Job Title - Use an Appropriate and Appealing Job Title
B. Status. By default your job, will be live once you save the copy.
i. Hidden – means this job will not be displayed on any job board and is private. However the system will generate a discrete link you can use. Your hidden job will appear in your job list. To edit this job scroll over the two icons directly under the job title and select EDIT.
ii. Draft Copy – To save as a draft, select this option prior to saving. Once saved will not be published.
iii. Featured – Jobs with ticked "Featured" box will always be on top or on first page/s of the job board list.
iv. No Apply Now – When this is chosen, system will not send job alerts for this vacancy. (upcoming feature)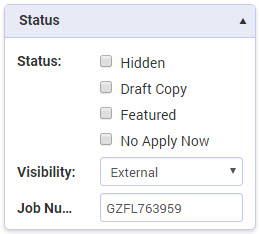 v. Visibility - There are three options for the visibility of the job:
External – Job is only posted to external job board.
Internal – ­ Job is only posted to internal job board.
External & Internal – Job is­ posted to both external and internal job boards.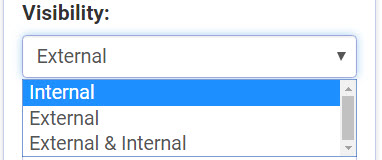 vi. Job Number – This number is automatically selected by the system, however you can type over if required.
C. Details -
To add a JOB DESCRIPTION in the job description section select 'Select a file'.
To add support documents in the section Other select 'Select Files'.
To post your job to SEEK or TRADE ME from the SHARE TO option click and make your selection.
NOTE: You can only select one option at one time as each option requires you to complete sections in
the third party job board not already collected in the JOB AD template.
6. Job Number – This number is automatically selected by the system, however you can type over if required.
---
Help Video: